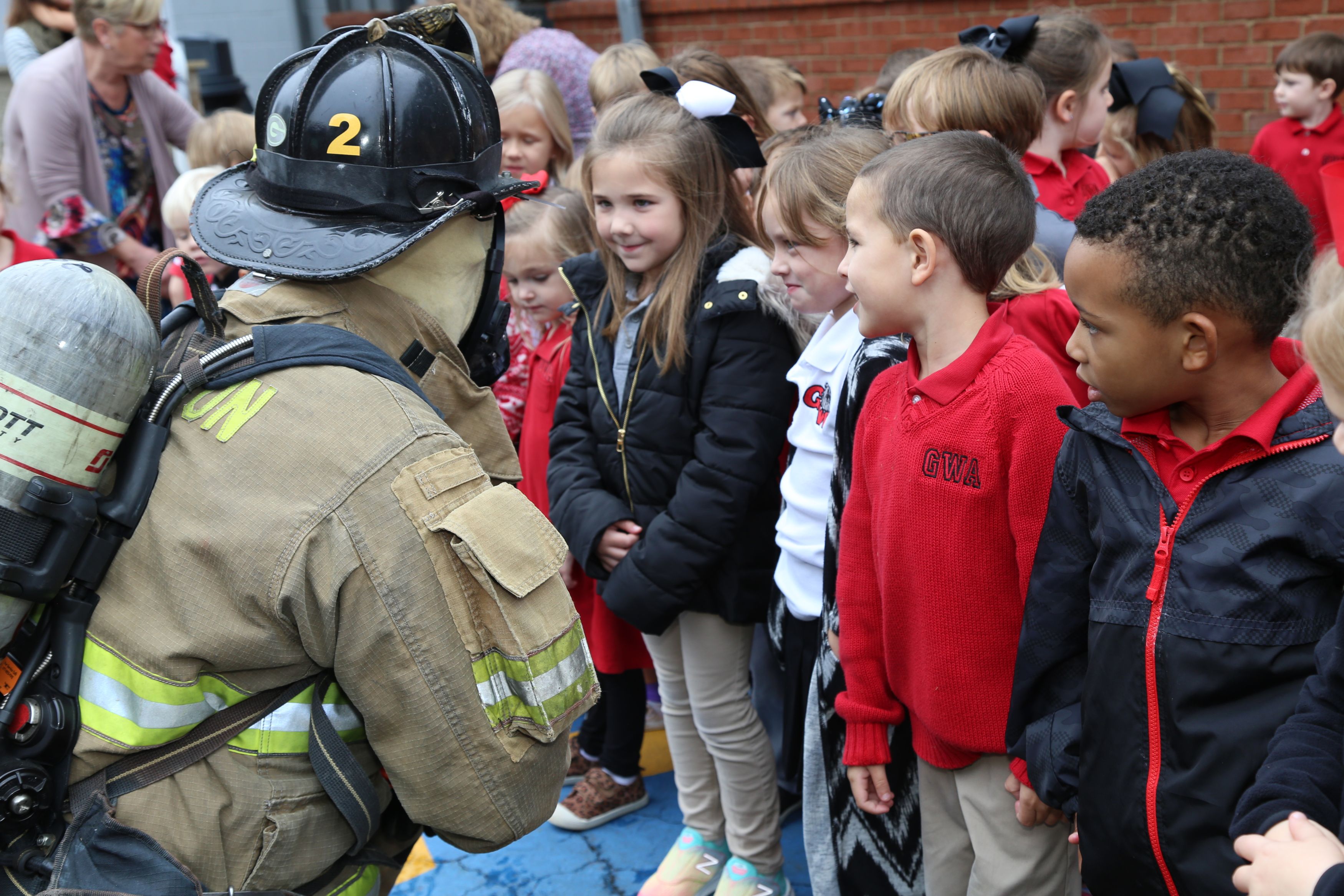 Not Your Typical Pre-K Program
At George Walton Academy, our youngest students are active participants in a vibrant learning community that not only focuses on foundational skills but also lays the groundwork for exploration in every subject area. Don't be fooled by how much fun our PK3 and K4 students have – these kids tackle big classroom concepts!
---
Learning Begins With Joy

Our PK 3 and K4 teachers are like no other. With encouragement, dedication and individualized attention, they approach teaching our youngest students with an aim of sparking each child's natural curiosity.
Philosophy

George Walton Academy believes in educating the whole child. Our approach in the lower grades, and in PK 3 and K4 especially, is to foster social, emotional and academic growth in all students.
With these goals in mind, our PK 3 and K4 programs take a hands-on, minds-on approach to learning that's fun, dynamic and student-centered. Students work at different levels of instruction – whole group, small groups, partners and as individuals – throughout a typical school day. Classroom activities influence soft skills like sharing, patience, kindness and being thoughtful as well as academic skills. We believe that making friends and learning how to work and play together is important.
Curriculum

To actively engage children in the learning process, our teachers employ a variety of teaching strategies and activities, including learning centers, letter recognition and phonological awareness games, math manipulatives, and other tactile methods. Throughout the year, students progress from oral to written literacy through the use of guided reading, word building and shared writing.
Additionally, students regularly attend special activity classes. With an aim of enriching the core curriculum, these weekly "specials," as we call them, are offered through Spanish, physical education, Bible, music, art, technology and media center periods with additional instructors in various school buildings. Visits from community professionals also enhance and broaden classroom learning.
Our PK3 and K4 classes have low teacher-student ratios, and every teacher is assisted by an aide. Each day is special – just like each child entrusted to our care.
Schedule

The school day for PK 3 and K4 students begins at 8 a.m. and lasts until noon dismissal, five days a week. Once students are four years old, they are welcome to join our afterschool program until the lower school dismissal bell at 2:45 p.m. or may stay as late as 6 p.m., depending on the scheduling needs of our families.
---
Learn More

PK3 and K4 are rich years of foundational growth for George Walton Academy students. Our ultimate goal is to connect a child's development to his or her self-confidence and a love of learning. If you're interested in learning more about the PK3 and K4 programs at GWA, please contact Director of Admissions Cari Bailey.