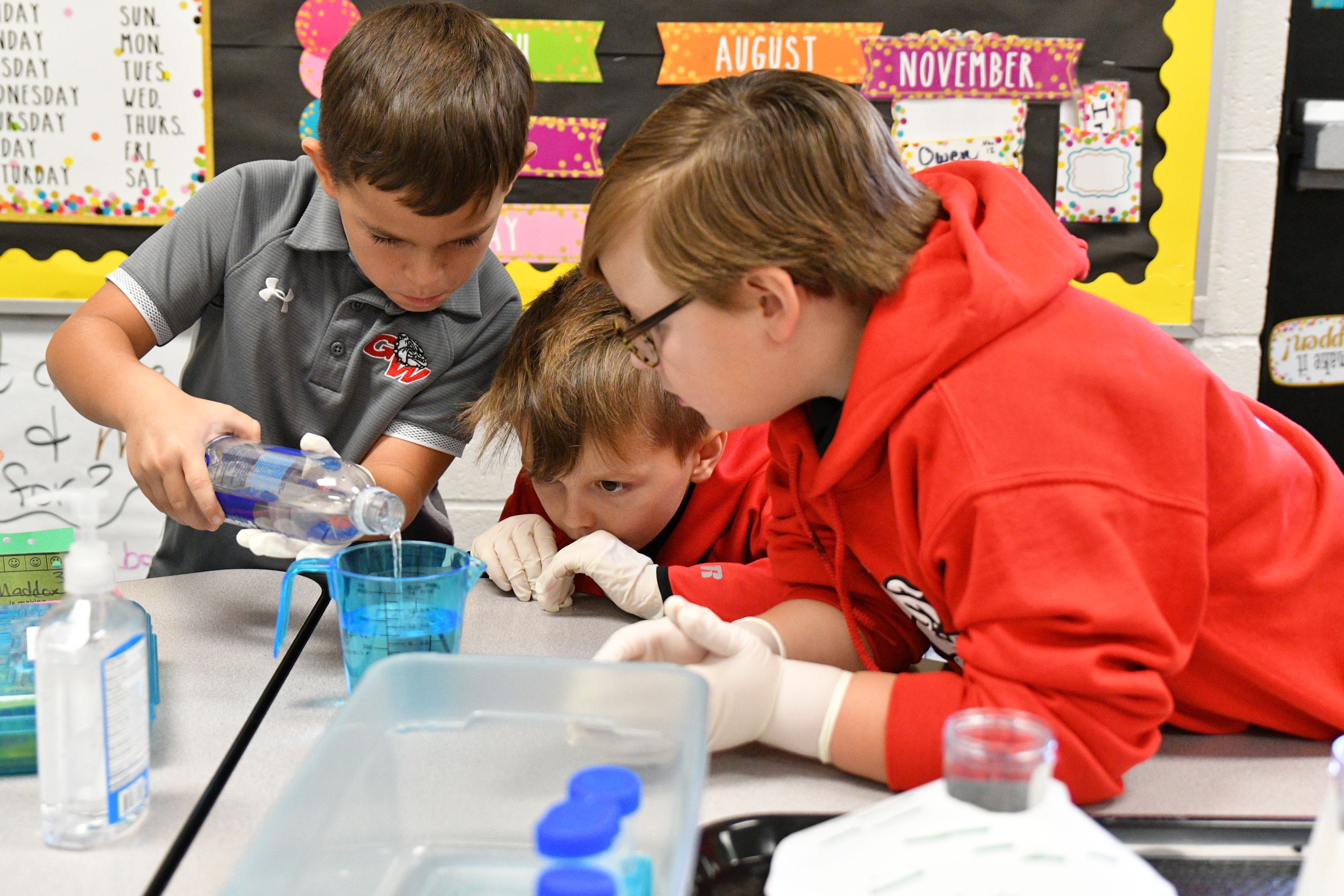 A Firm Foundation
Nowhere is the development of the whole student more important than in the lower school. At GWA we have designed every aspect of the school day with a focus on encouraging a young person's mental, physical, academic, emotional, social and ethical growth. Although we rely on classroom experiences as the primary method of instruction, our academic program is enhanced through field trips, guest speakers, games, use of our outdoor classroom, and as many hands-on experiences as possible. Our goal is to develop children who love to learn.
Curriculum
Our curriculum in the lower grades is integrated and sequential. Lower school students at GWA receive focused academic instruction in phonics, reading, writing, math, science and social studies.
Phonics
In the lower school, we approach phonemic awareness, phonics, and spelling through programs that are multisensory and systematic in their progressions of skills. In K4 and K5, students learn using the Orton-Gillingham approach. To build on that foundation, 1st and 2nd grade students use a program and that moves beyond the direct phonics instruction, and we use an additional program with older elementary students that teaches the reading, spelling, and contextual use of multisyllabic words.
Reading and Vocabulary
Every day our students receive instruction that supports daily independent reading, reading comprehension, and vocabulary instruction. Comprehension strategies are taught directly through read-aloud experiences. Teachers have regular student-teacher conferences to discuss what they have been reading independently and how they have been using the comprehension strategies they have learned.
Writing and Grammar
During our daily writing time, we use a student-centered, rigorous writing process approach with guided instruction. The goals are to grow students as capable, skilled writers, and as respectful members of their classroom community. Students write regularly and with intent about topics they choose, build an understanding of, and appreciation for, the skills and conventions of writing.
Mathematics
GWA recently updated our math curriculum in the lower school. In K5 and 1st grade, every lesson begins with a warm up activity, moves into a powerful mini-lesson, followed by differentiated small groups and wraps up with a reflection and sharing time. Students use a wide variety of manipulatives and centers to teach and reinforce concepts.
For grades 2-5, our math curriculum was chosen for its combination of problem-solving experiences, direct instruction and visual learning to deepen students' conceptual understanding. Independent practice and problem-solving activities throughout build mathematical proficiency and promote higher-order thinking. Teachers meet with students in small groups to reinforce or review concepts and also to explore topics further.
Science
We approach science in K3 through 5th grade from a hands-on, experimental perspective. Our science classes have become even more hands-on with the addition of our mobile science lab. Our mobile lab supports the topics and instruction extending the learning in unique and innovative lab activities.
Social Studies
Social studies not only covers the basics of geography and history but also encourages a young person's understanding and appreciation of other cultures.
In addition to traditional academic disciplines, students attend weekly classes in Spanish, art, physical education, music, Bible, global studies, library, social emotional learning, technology and the mobile science lab. Learning from instructors in disciplines outside of their normal classroom allows students to broaden their understanding of concepts, and it also enhances their ability to function in different settings with a variety of instructional styles. Play is also a vital part of the education of childhood and students have recess every day.