Finding the Right Fit for Every Student

Deciding which college to attend is one of the most exciting and difficult decisions our seniors face each year. Our college counseling office is available to guide students through this often perplexing process. From parent and student meetings starting in ninth grade to individualized sessions with juniors and seniors, college counseling at GWA empowers our high school students to be proactive in their college search. George Walton Academy holds accreditations from AdvancED (Southern Association of Colleges and Schools,) the Southern Association of Independent Schools, and the Georgia Accrediting Commission.
College Profile
A comprehensive school profile ensures that all stakeholders, including colleges, have access to important information that supports secondary school students in the college admission process. It provides context on the Academy's history and culture, curriculum, grading system, standardized testing and GPA statistics, as well as recent college acceptances and matriculation.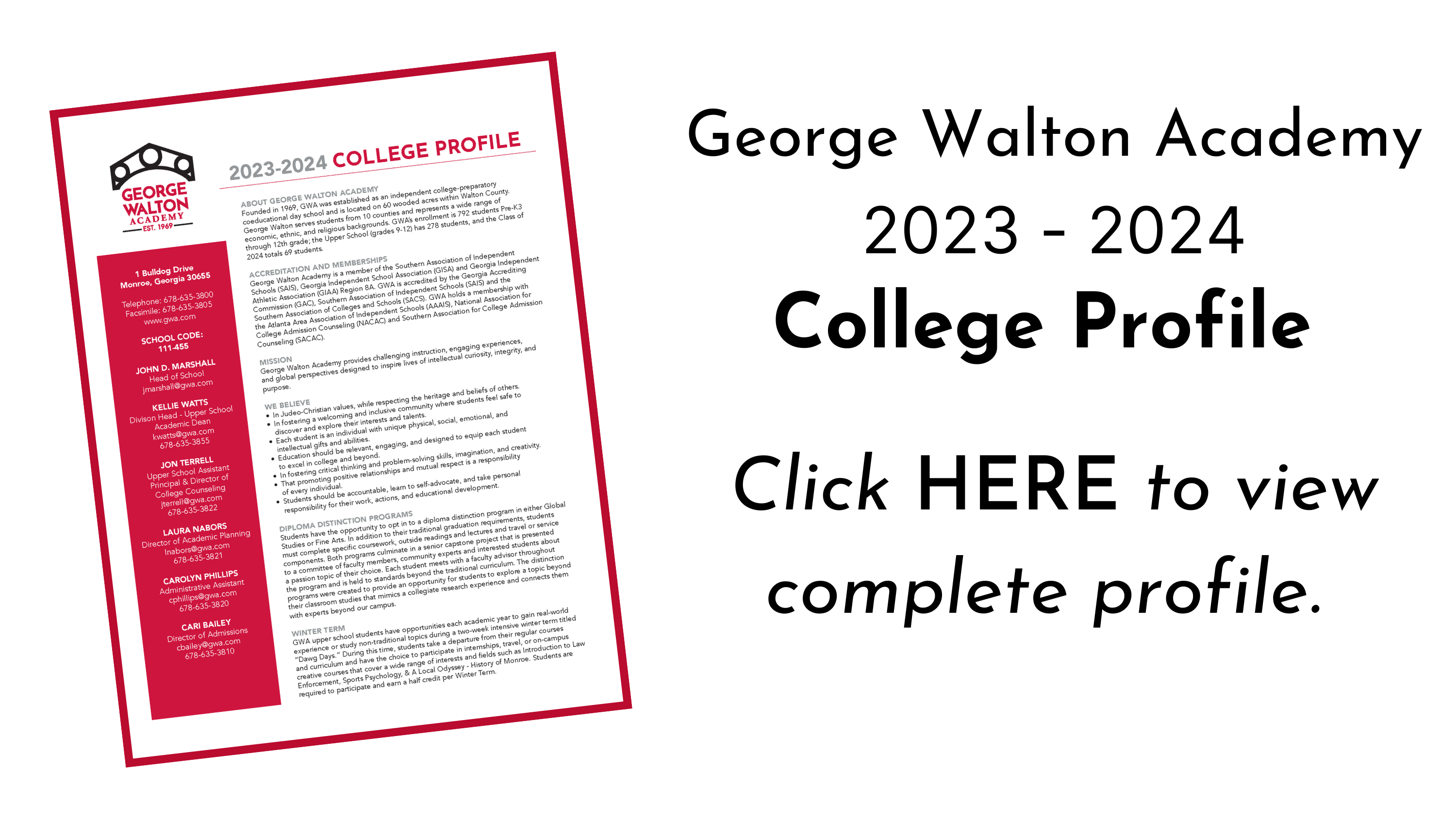 Resources

Our students have access to a variety of resources and tools to help them prepare for the college admissions process.
---
Events

We host several events throughout the year, both on and off campus, to help inform our students of their college and career choices. University Recruiters, please contact Jon Terrell at jterrell@gwa.com.
Each year the GWA campus hosts a number of admissions representatives from colleges and universities around the country. These representatives hold informal meetings for our upper school students in the Commons and cafeteria throughout the fall and early spring, providing an opportunity for students to ask questions, check on application requirements and get to know these colleges a little better. Upper school freshmen through seniors are encouraged to engage and practice their conversational skills while learning about opportunities and programs at the collegiate level. College representatives, please email Jon Terrell at jterrell@gwa.com or go to RepVisits to schedule a visit.

Our students are as unique as the colleges to which they apply, and this fact makes the campus visit an integral part of their college decisions.
Every spring our college counseling office coordinates a series of college tours to take GWA freshmen, sophomores and juniors to visit potential college and university choices. While on tour, students enjoy lunch in the dining halls, walk and talk with current college students, and chat with admissions staff.
GWA high school students will have the opportunity to take advantage of multiple local college fairs. Probe College hosted by the Walton County Chamber of Commerce in the fall and the NACAC College Fair in the spring.