September 06, 2017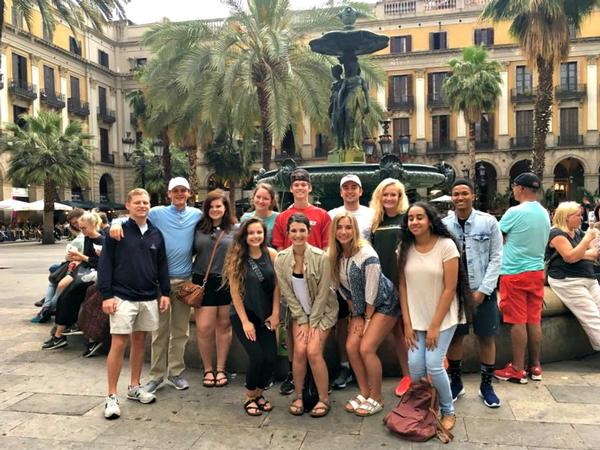 GWA's new Global Studies Program will begin international exchanges this year.
---
Have you heard the news? George Walton Academy is expanding its borders this year by introducing our first international school partnership with St. Paul's School in Barcelona, Spain. I'm so incredibly excited to begin this journey, not only with the school as a whole but also with each individual student who will get to travel to Spain and experience this exchange firsthand.
From the moment St. Paul's school was brought to my attention last fall, I knew it was special. Making partnerships with foreign schools can be tricky, and I wanted to be sure that any sister school we might choose to partner with would have the same academic standards and family culture that we foster with our kids every day at GWA.
I'm happy to report that St. Paul's School is the best fit in every way. It was founded in 1968, just one year before GWA, and the St. Paul's community approaches education as we do – by highlighting academic excellence, character development and lifelong learning. Although St. Paul's places its main emphasis on language (students graduate fluent in English, Spanish and Catalan), both schools cater to an almost identical demographic and have approximately the same number of students, making this partnership an ideal fit for our first venture into international education.
As we begin to develop this program, you might be wondering why an international program is important, or why we're prioritizing this experience for our students. As a history teacher, I cannot begin to outline all of the reasons why this opportunity is of paramount significance, but I do want to highlight just a few.
First, we live in an increasingly inter-reliant world, one where everything and everyone is connected, making foreign travel a key ingredient in developing students who are ready to participate in a life without borders. Gaining early experience with soft skills like intercultural communication will provide students with an edge in a future where employers are searching for globally adept applicants. With a high likelihood that many of our students will one day be working in a foreign country or for a business that partners with foreign companies, providing them with this experience early can be of great significance to their future success.
As a side effect of interdependence, we also try, as a school, to foster greater empathy within our students – not superficially, but through experiences that make deep impressions on their lives, altering their behavior in ways that make them better citizens of the world. Having the opportunity not simply to travel but to live with another family and host someone in their own home will increase students' empathic capacity. It will also help them see the world through another lens, and, by extension, enhance their global perspective.
Finally, living in a 21st-century world requires a certain literacy that can only be properly learned through exposure to foreign cultures in an authentic experience, such as an exchange. Bringing students to other countries and pushing them to interact with their global counterparts will teach them invaluable lessons about cross-cultural competence, flexibility and adaptability that can never be fully nurtured in a classroom environment.
Do you find these reasons for international exchange too broad? Too non-specific? That's the point! To insert specifics into the reasons why exchanges are valuable would place limits on an experience that's inherently limitless! Studying abroad is about going on the biggest adventure of your life and gaining a deeper understanding of the world around you, both abroad and at home.
Having recently hosted foreign students in my classroom from different parts of Europe, I can say as a teacher that they all spoke about how their experience as a foreign exchange student completely altered their views not only of America but also of their home country. For them, having the opportunity to observe our lifestyle and ask questions about politics, social norms and cultural habits allowed them to understand America in a fresh way, and then be introspective about their own culture and habits.
Matthew Taylor, the chief executive of the Royal Society of the Arts in London, said it perfectly when he stated that we, as humans, need to "resist our tendencies to make right or true that which is merely familiar, and wrong or false that which is only strange." That is why foreign exchange is so important. We want to develop more self-aware and empathic students, ones who are looking for ways to understand the world around them, not as simply "foreign" or "familiar," but as pieces of a larger whole to which we all belong and contribute. By placing themselves in another's shoes, students can allow their own views to be shaped by experiences instead of assumptions.
So how soon can we get this exchange program going? This past January we hosted Hannah Margrett, the head of English at St. Paul's, and solidified the partnerships between our schools. We now plan to host five students from St. Paul's School in October, and then we'll send the same five who hosted students at GWA to Barcelona in April 2018 to allow them to experience student life in Spain.
In the next three years, we hope to establish partnerships with more schools, aiming to have at least three official partner schools by the 2020-2021 school year. We're currently in talks with Dainfern College in Johannesburg, South Africa, about a possible partnership for summer 2018, and we're also hoping to make a connection in Australia by the end of this upcoming school year.
These are exciting times to be at George Walton Academy, and I hope each of you can find a way to become involved in our journey to become more empathic and cross-culturally literate – while seeing as much of the world as we can!
Current In Focus Newsletter
Click below to open and browse the latest In Focus newsletter for up-to-date GWA news, events and campus activities.